Cottage
In addition to the relaxing rooms, the quietude of the garden, and the abundance of good books, the body, mind and spirit is also taken care of through the resourceful Dr. K.J. Johnson - a yoga teacher (Natural Hygienist, Yoga Therapist and Rekhi Master) to do dutifully attends to yoga classes every morning and theurpic sessions during the day.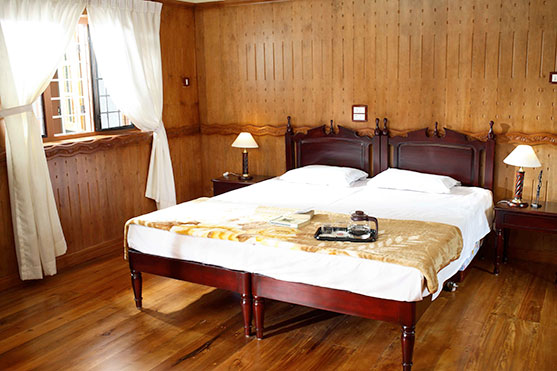 These acts of kindness are passed on to his family members, the society he are with and to guests visiting - making the world a better place to live in. From the hazel and recat of every day life, one walks into Walton's - a refreshing casis, of peace and Kanquility with a garden full of birds. A plentiful supply of second land books at "Every man's the Second Hand Bookshop run on the ground floor. The innkeepers believing that good books, like good friends always keep you good company "Every man I will go with thee and be my guide. In my most need to go by my side".
Good Books
The reception area doubles up as a library It's sharing their common love for books; a second-hand bookstore functions in the homestay from where you can pick up rare books on the state's history and culture.
The Double Rooms
All double rooms are bath attached with solar powered hot water showers 24 hours a day. We have 6 double rooms - 3 on the ground floor and 3 on the 1st floor all with windows opening to the garden where birds sing.
The garden cottage
A relaxing place for one's mind, heart and spirit, birds keep you company in the day.
The Breakfast Table
We take care of your day break with a samptions breakfast of endless toast, fresh fruits, tea or coffee. Experience the communal breakfast at the family breakfast table.